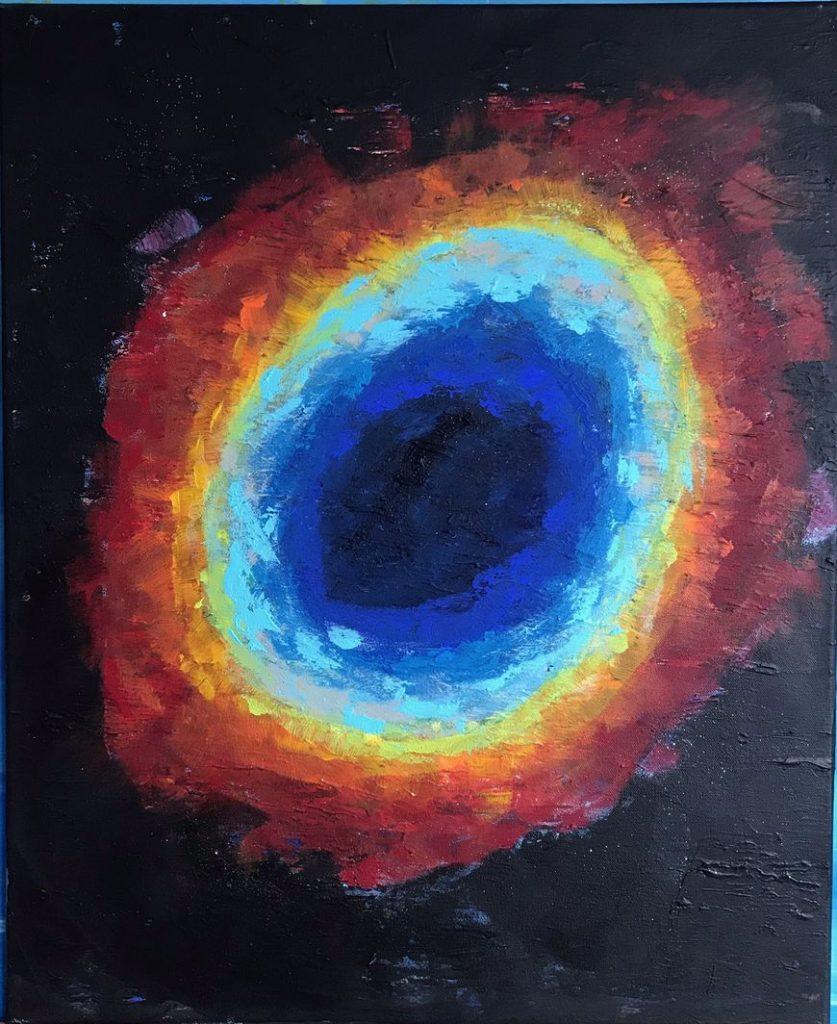 Konstverkets titel: THE BURNING FRONTIER
Teknik: Akryl på duk
Mått: 61X50cm
Min tavla The burning frontier syftar på människans strävan att hitta nya sätt att överleva i mest ogästvänliga omgivningar men också styrkan att lösa problem när det verkar helt omöjligt. Kunskapstörsten, nyfikenhet och kreativitet har gjort att människan hela tiden täljer på gränsen både i yttre rymden men också i vårt mindset och våra inre rum där vi finner nya kunskaper, inspiration och vägar att lösa både små och stora problem.
Tavlan representerar också mörkret i våra själar, bottenlöst fördärv och misstro men också otrolig förmåga att resas igen efter fall, hitta kosmisk styrka och tro i sig själv och omvärlden och hitta pånytt född viljestyrka som leder till framgång.
Förutom jobbet på banken hittar jag glädjen i att måla och utforska färgers rikedomar. Glädjen i att leka med färger och måleri har funnit hos mig sedan barnsben men någonstans på vägen blev jag vuxen, i full fart att hitta mitt hem, bilda familj och karriär där det plötsligt försvann lekfullheten i sinnet och livets alvar tog plats. För 2 år sedan (51 år gammal idag) fick jag följa med på en privat konstutställning i Rönninge där slumrande målarglädje väcktes till liv igen. Sedan dess har jag målat, mest akryl på duk.