13

aug
FARVASH – Liquid Voices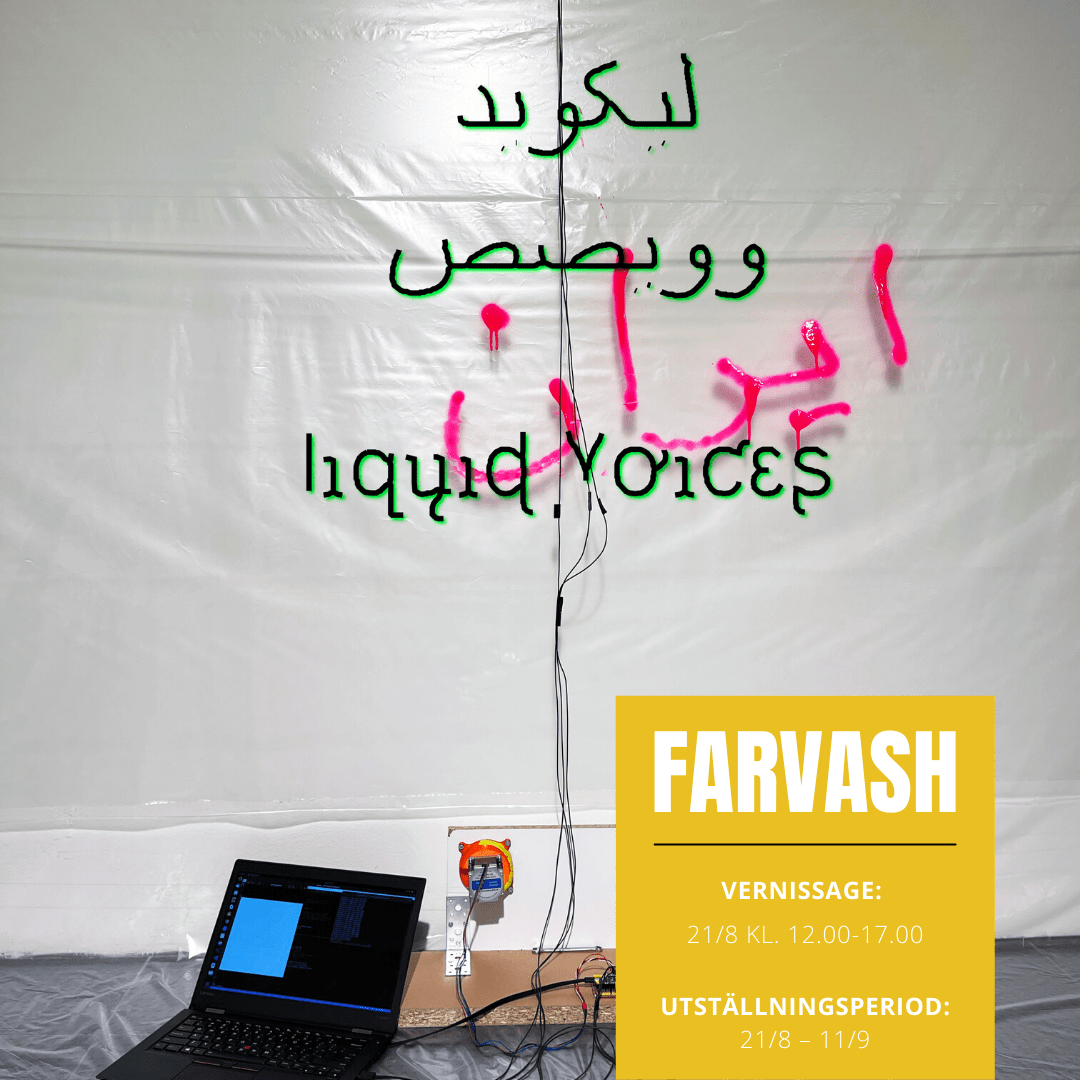 FOLK i Skärholmen presenterar den svensk-iranska konstnären Farvash med utställningen Flytande Röster
Flytande Röster är ett samarbete mellan Farvash och unga poeter i Iran där utställningsrummet omvandlas till en ocensurerad portal mellan Teheran och Skärholmen. Poeterna kopplar upp sig i realtid till utställningsrummet för att göra sina röster hörda genom text och ljud. I rummet skapas en fysisk länk mellan olika verkligheter, där röster om längtan, isolering och gemenskap växer fram och överlappas i en konstant dialog.
I sitt konstnärskap arbetar Farvash (f. 1982 Teheran) med mellanförskap genom mytologiska och teknologiska perspektiv. Genom sin konst är hon intresserad av att undersöka frågor om konstruerad identitet, invandringsskuld och krigstrauma.
Utställningsperiod: 21 augusti – 11 september
Vernissage: 21 augusti kl. 12.00-17.00
Öppettider: onsdagar, fredagar och lördagar kl. 12.00-17.00. Torsdagar kl. 12.00-19.00
Adress: Ateljé SKHLM i Skärholmens Galleria, Bredholmsgatan 4 (Bredvid Kjell & Company)
English:
Liquid Voices is a collaboration between Farvash and young poets in Iran, in which the exhibition space is transformed into an uncensored portal between Tehran and Skärholmen. The poets connect to the exhibition space in real time, in order to make their voices heard through text and sound. A physical link between different realities is created in the space, where voices of yearning, isolation and togetherness grow and overlap in constant dialogue.In her artistic work, Farvash (b. 1982, Tehran) works with in-betweenship through mythological and technological perspectives. She is interested in exploring issues of constructed identity, immigration guilt, and war trauma through her art.

–
Utställningsprogrammet stöds av Kulturrådet och genomförs i samarbete med SKHLM Centrum och ABF Stockholm.